GoPulseX is PulseChain's all-in-one trading platform, designed to both save and earn you money! It enables you to seamlessly swap tokens, utilizing a diverse range of liquidity across various DEXs.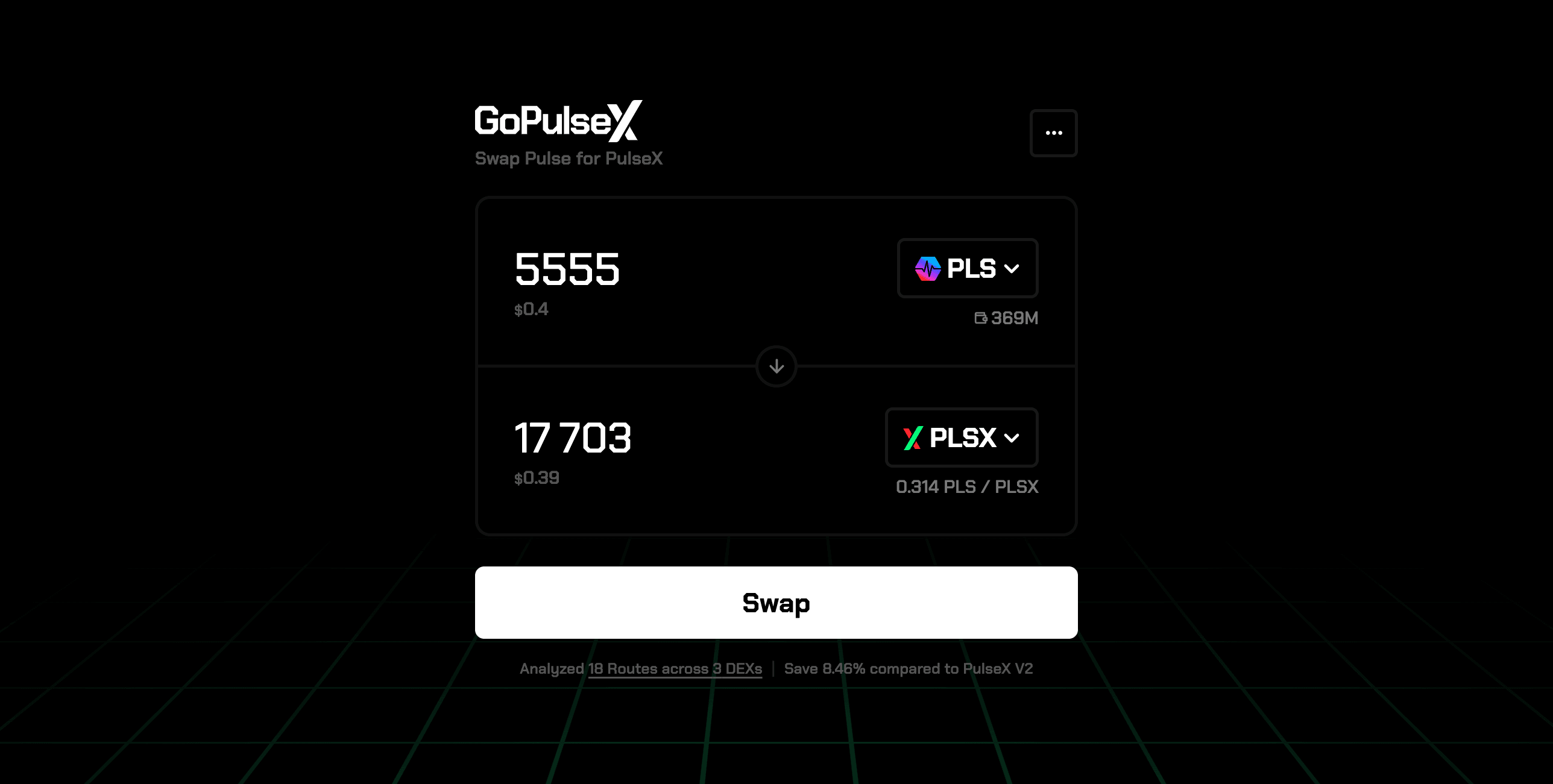 Key Features
Robust, reliable and highly secure swapping experience
Unstoppable architecture: 100% decentralized, censorship-resistant awesomeness
Burns PLS with every Swap, buys & burns PLSX with almost every Swap
Trade over 450,000 tokens, even the freshest drops within seconds of hitting the chain
Lightning fast: Swaps confirm within seconds
Works on every device, in every browser, with every wallet
Clean, user-friendly UI. Great for onboarding new users to PulseX!
GoPulseX does not have its own shitcoin. If you want to invest in it buy PLSX (opens in a new tab), then share your Referral Link everywhere to profit twice from every swap!
Save on every Swap
GoPulseX utilizes multiple markets, DEXs, AMMs and DeFi protocols to provide optimal rates. Whenever you type in how many tokens you want to swap, GoPulseX's intricate routing algorithm instantly analyzes quotes and fees from dozens of routes.
It's blazingly fast (around 80x times faster than competitors), all calculations happen within miliseconds! The UI presents all analyzed routes with connector tokens and exact output amounts for full transparency. GoPulseX automatically determines the most efficient route with the optimal rate.
All of this happens in the background: GoPulseX ensures the best price, lowest slippage, and highest returns for each transaction. You save money without having to worry about anything!
Fees
GoPulseX does not charge any fees until the Referral Program goes live. After that referrals earn 0.25% of their referees' swaps. The main purpose of the referral program is bringing more volume to PulseX, increasing the PLSX buy & burn. The increased network usage also results in accelerated PLS burn!
Security
GoPulseX ensures the security of your transactions with a fully trustless, non-custodial architecture. You always retain custody of assets and stay in control of your keys. There are no sign-ups, tracking, personal data, KYC/AML or ads. You can use GoPulseX completely anonymously!
More Features
Trade with GoPulseX and experience dirt-cheap gas fees! GoPulseX simulates every swap before broadcasting so you get exact gas fee estimations. Beause of the advanced gas simulations and further optimizations on the contract level, most swaps cost less than $0.01 in gas fees!
GoPulseX automatically chooses the most efficient gas fees to ensure fast and seamless swaps. If you want to, you can still customize them.
GoPulseX is for everyone
GoPulseX was designed for both new users, relying on a simple and intuitive user experience, and advanced traders that value capital efficiency.
For new Pulsicans
GoPulseX enables you to easily swap any token you own to any other token on PulseChain, providing you with endless trading possibilities at your fingertips.
It works like a search engine that compares dozens of routes across multiple markets to get you the best swap rates. This eliminates the need to use multiple services! GoPulseX ensures you always get the most tokens possible, encapsulated in a simple UI that makes swapping easy and intuitive.
For experienced Traders
GoPulseX provides a comprehensive solution for decentralized on-chain exchange with fast order execution and deep liquidity. It's a streamlined swapping process with focus on speed (opens in a new tab) and efficiency. Take advantage of enhanced trading opportunities with the most cost-effective way to swap tokens!
Learn more...